Medical Design Excellence Awards (MDEA) celebrates 15 years of honoring:
the highest caliber medical devices on the market today, and... the achievements of medical product manufacturers, their suppliers, and the many people behind the scenes -- engineers, scientists, designers, and clinicians -- who are responsible for the groundbreaking innovations that are changing the face of MedTech today.
The MDEA competition accepts entries in 10 product categories. In this year's Finished Medical Packaging category finalist list is the Lantus & You journal for Lantus SoloSTAR.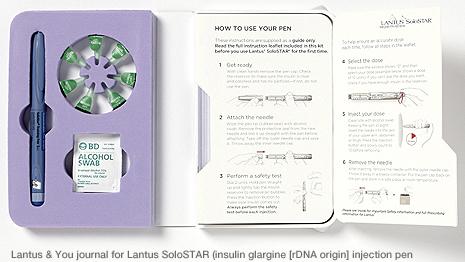 According to MDDI, "The Lantus & You journal supports patients with type 2 diabetes who are new to using the Lantus SoloSTAR insulin injection pen by offering them an easy, step-by-step guide and a calming experience during their first seven days of treatment."
The journal is manufactured by Sanofi (Bridgewater, N.J.). IDEO and HAVAS Life NY are credited for supply and design.
Rodrigo Martinez, life sciences chief strategist at IDEO, said:
The Lantus & You Journal's conceptual design is currently unlike that of any other product offered by pharmaceutical companies, particularly in the area of diabetes care. Its underlying principle is that, by taking a user-centered approach to self-treatment, Sanofi can help patients with a progressive condition form the right habits and behaviors early on. To this end, the Journal is designed to support -- and not overwhelm -- patients with diabetes.
What I am most impressed with about this patient-focused piece is how focused it is. This is for newly diagnosed patients completely unfamiliar to treating through injection.
Have you designed anything like this before? How was the process? Was your design award-winning? More importantly, was it effective? Finally, is patient-centered packaging design here to stay or just a fluke?